Rent a self-drive canal boat from one of the 18 bases located across France's extensive canal and river network. With almost 8000 km of navigable waterways, France boasts the largest canal network in Europe. This is good news for boating holiday enthusiasts as it creates an abundance of cruising options:
Alsace: mountains and forests sceneries along with fine wining and dining
Anjou: famous for castles, abbeys and historical treasures
Aquitaine & Lot: cruise the Baise, Lot and the Garonne Canal
Brittany: the land of legends, crêpes and cider
Burgundy: picture postcard scenery and splendid châteaux
Camargue: flamingos, wild horses, Crusader ports and sandy beaches
Charente: green countryside, clear waters and fields of sunflowers
Franche-Comté & Saône: crossroads of rivers, few locks and wild beauty
Loire Valley & Nivernais: charming villages throughout Sancerrois
Midi: UNESCO listed canal linking the Atlantic with the Mediterranean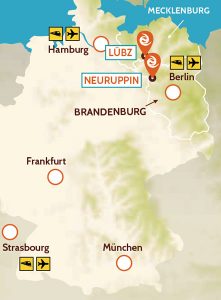 Criss-crossed by numerous waterways, Germany offers boating holiday regulars something different and the chance to discover wonderful natural areas. Hire a self-drive canal boat and cruise on clear waters passing through beautiful forests and breathtaking landscapes typical of the Mecklenburg and Brandenburg regions. The two Nicols canal boat bases offer unforgettable boating holidays in the heart of the twisting and turning "region of a thousand lakes".
Mecklenburg: green countryside and clean beautiful waterways
Brandenburg: lake chains of crystalline waters joined by the canals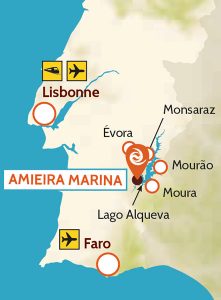 Hire a self-drive canal boat in Portugal – an exclusive to Nicols! Even though the Douro river is usually best known, the Alentejo region in the south of Portugal, is just as good if not better. What makes this canal boat holiday destination special is the waterway you'll travel along: the Grande Lago is the largest and one of the most impressive artificial lakes in Europe. A cruise from there offers complete freedom. No locks mean you can go where you want when you want, even mooring up freely at any of the many islets you'll find on route.
Lago Alqueva: waters of an incredible quality for nature lovers and watersports fans!