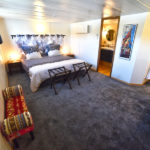 All suites can be configured with 2 single beds or a king-size bed. The cabin theme is silver-grey and champagne with Percale bed linen. The furniture is custom made and the deep pile carpets complement the choice of colour scheme.
Each suite has a stylish fully tiled en-suite bathroom. All are equipped with hair dryer, shower cubicle, double wash basin and WC. Each are supplied with washing gel, hand soap, shampoo, towels and bathrobes. The bathroom flooring is solid teak and the oversized walk-in showers are very spacious.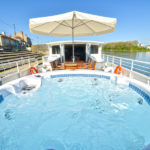 – Crew of 5 (Captain, Tour Director, Chef, Housekeeper & Hostess)
– 8 person spa-pool (hot tub)
– 8 bicycles (5 gears and low tube/cross bar) + helmets
– Computer for guest use
– 3G internet connection (Wi-Fi)
– Small library of books and maps
– Collection of board games
– Boules
– Telescope
– Sound System iPod / MP3 player
Day 1 – Sunday – St-Jean-de-Losne
Guests are met in Dijon, Le Creusot or Lyon (private charters only) and transferred by air-conditioned minibus to Finesse for a Champagne Welcome and the opportunity to meet the crew. Then there is time to wander along the quaysides to see the wide variety of watercraft plying their trade or undergoing refurbishment, before the first delicious dinner on board.
Day 2 – Monday – St-Jean-de-Losne to Fragnes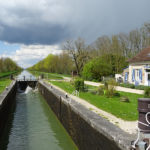 We begin our voyage this morning through Southern Burgundy along the peaceful River Saône, passing delightful little river ports such as Seurre and Verdun-sur-le-Doubs, before joining the Canal du Centre at Chalon-sur-Saône to arrive at our mooring in Fragnes.
After lunch on board, we visit the 14th century Château de Germolles, the best preserved of the residences of the Dukes of Burgundy, with its ducal chapel, medieval wall paintings and romantic gardens. Dinner on board.
Day 3 – Tuesday – Fragnes to Rully
This morning, we take a walking tour of old Dijon, including a visit to the vivid flower and produce markets, mustard shops and the impressive Notre-Dame de Dijon, or enjoy some excellent shopping time.
We return to the hotel barge for lunch and then a leisurely afternoon cruise to our mooring near the village of Rully. Dinner on board.
Day 4 – Wednesday – Rully to Remigny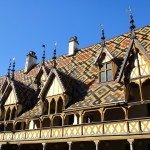 After breakfast, we set off on a drive through the Côte de Beaune vineyards to the town of Beaune itself, capital of Burgundy wine country, where we visit the fascinating 15th century Hôtel-Dieu Hospice and explore the quaint shops of the town, before enjoying a gastronomic lunch at Michelin-starred restaurant Le Montrachet.
After lunch, we return to the barge for an afternoon cruise to Remigny, passing the charming little town of Chagny. Dinner on board.
Day 5 – Thursday – Remigny to St-Léger-sur-Dheune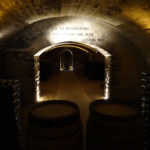 This morning's cruise takes us past the famous wine-producing village of Santenay. There are perfect opportunities to walk or cycle along the towpath en route, before we moor at the pretty little port of St-Léger-sur-Dheune.
In the afternoon we escort you on a winery tour and private tasting to the delightful 17th century Château de Chamirey in Mercurey, owned by the Devillard family for five generations. Dinner on board.
Day 6 – Friday – St-Léger-sur-Dheune to St-Julien-sur-Dheune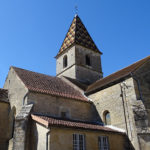 This morning, we continue our cruise along the Canal du Centre through undulating countryside to moor at the little village of St-Julien-sur-Dheune. We will ascend a series of locks with plenty of opportunities to disembark and explore the villages along the way.
After lunch, we head to Autun, a town of ancient origins with Roman gates and a 17,000 seat amphitheatre. The 12th century cathedral is also renowned for its architecture and its position on the pilgrims' route from Vezelay to Santiago de Compostela in Spain. Farewell Dinner on board.
Day 7 – Saturday – St-Julien-sur-Dheune
After breakfast, guests are transferred by private chauffeured minibus to the agreed departure point.
Finesse cruise fares for 2018:
• Private charter – Full board: from €5,250 per person based on 8 passengers
• Open week – Full board – Twin/double cabin: from €5,690 per person
• Single supplement: from + 2,050€ per person
• Wine Appreciation Cruise (charters only) = supplement of €3,500 on total cost


Included in the fare:
– Six nights accommodation
– All gourmet meals prepared by your private chef
– All wines, bar, and refreshment drinks aboard
– Transfers to and from the barge from the designated meeting point
– Daily excursions with your tour guide in private vehicle
– Use of on-board spa pool, bicycles, library and sound system