Papillon sleeps six, in three cabins: one double and two twins. Each cabin has en-suite facilities with air conditioning and central heating. The large portholes can all be opened so the barge is always filled with air and light.
Her living quarters are spacious and well appointed, and the comfortable saloon is complete with an eclectic library, stereo system and a well-furnished bar. The open bar on Le Papillon will always endeavour to stock passengers' favourite brands. The majority of our wines are 'real finds' from the smaller vineyards of Burgundy – delicious for drinking now!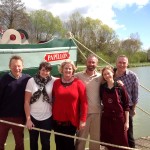 The traditional dining room provides the perfect ambience to sample all the flavours from the chef's galley. The chef on 'Le Papillon' holds one of the prized cooking jobs on the French waterways. With her unlimited budget, she is able to accommodate your every need. To ensure the best tasting food possible, she buys nearly all of her ingredients from local farmers markets, fishmongers, cheese shops, butchers and green-grocers, choosing 'fair-trade' and organic whenever available. Naturally you are welcome to accompany her on any of these marketing trips and help choose from the wealth of fresh seasonal produce.
Your crew (4) provide an impeccable and attentive service. Together, they are a wealth of information about France and are passionate about imparting its culture, cuisine and wine.
Discover historical castles, traditional wine making villages and lively food markets. Stroll or cycle through the rolling hills that surrounding the canal de Bourgogne and become enchanted by one of the most beautiful regions of France.

Day 1, Sunday: meet in Paris, en route to Pont de Pany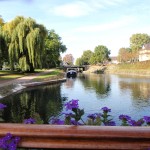 You will be met by a Papillon crew member at your hotel in Paris at 1pm and driven to the Papillon moored near Dijon in the village of Pont de Pany. On the way, you'll be able to visit the fabulous château and gardens of Vaux-le-Vicomte – a mini rival to Versailles. Alternatively, you can take the fast TGV train from Paris and a Papillon crew member will meet you at the railway station in Dijon. Upon arrival, you will be welcomed aboard Le Papillon with a Champagne reception and introduced to the crew of four – time to settle in before dinner.
Day 2, Monday: visit the 'Route des Grands Crus' and cruise to Gissey-sur-Ouche
During breakfast, we will start cruising along the Canal de Bourgogne. Enjoy a morning coffee on the front deck and perhaps take a walk along the canal towpath. By early afternoon, Papillon will be moored in the quiet village Gissey-sur-Ouche. After a delicious buffet lunch, we will drive along the 'Route des Grands Crus' and through the vineyards of the Côte de Nuits; we'll stop at the Château of Clos de Vougeot, the perfect setting to learn about the importance that wine played in Burgundy's history. And then we'll go on to one of our favourite vineyards for a private tasting before heading back to Papillon's dining room.
Day 3, Tuesday: visit Dijon and cruise to Veuvey-sur-Ouche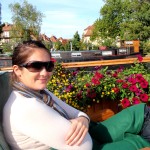 Food lovers can make an early start and accompany Papillon's chef to the busy morning food market in Dijon; this is an opportunity for a face-to-face meeting with our cheese, fish, meat and vegetable suppliers. Perhaps you'll want to take a coffee with the chef and discuss some of your favourite dishes. A short walking tour and orientation of Dijon's centre and you'll soon be free to explore on your own – the Rue Verrerie with its famous antique shops is nearby, so too is the Musée des Beaux-Arts. Lunch will be served back aboard and then we'll cruise to the village of Veuvey-sur-Ouche. You can recline on the front deck with a book and as the sun sets over the 'yardarm' enjoy Dijon's world famous apéritif, Kir Royal.
Day 4, Wednesday: visit Beaune and cruise to Pont d'Ouche
This morning's journey will take us to the tiny port of Pont d'Ouche where we cruise over the Ouche river. Before midday, we will drive through the rolling Burgundian hills and descend into the Côte d'Or vineyards and visit Beaune – a thriving little town and proud capital of the wine trade. After lunch in town, we'll hit the sights; by far the most famous is the hospice with its multicoloured roof tiles, which was built in 1443 by Nicolas Rolin, chancellor to the dukes of Burgundy. Next door in the spectacular cellars of the Marché aux Vins, we can taste some of Burgundy's finest wines. After the drive back to Papillon, there will be time to take a stroll before dinner.
Day 5, Thursday: visit Chateauneuf-en-Auxois and cruise to Pouilly-en-Auxois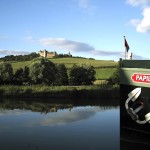 After a leisurely breakfast and perhaps a morning bike ride, we will take a ten-minute drive to the hilltop village of Chateauneuf-en-Auxois, rated as one of 'les plus beaux villages de France'. Restored and picturesque, the village offers a fine aerial view of the canal and surrounding countryside. Back on board, we will climb the remaining locks before reaching the summit level, the highest point on this waterway connecting the Mediterranean to the English Channel. After lunch, we can visit the château of Commarin with its fine tapestries or alternatively take a longer drive and visit the magnificent basilica of Vézelay. And then to Papillon for a cruise through one of the wonders of the canal sysyem – a two-mile tunnel leading to the town of Pouilly-en-Auxois.
Day 6, Friday: visit Flavigny and the Abbey of Fontenay and cruise to Pont Royal
Today's cruise will take us through tranquil countryside to the sleepy village of Pont Royal. You'll be able to enjoy a relaxing lunch on deck accompanied by some carefully selected wines. During the afternoon, a circular trip in the minibus could include visits to Flavigny where 'Chocolat' was filmed, the magnificent Cistercian abbey of Fontenay (a UNESCO world heritage site) and the undiscovered medieval town of Semur-en-Auxois. Be sure to return to Papillon in time for apéritifs with the crew and one last magnificent meal.
Day 7, Saturday: return to Paris
After a continental breakfast of fruits, cereals and pastries, our private mini bus transfer will take you to either Dijon train station or your hotel in Paris.
Papillon cruise fares for 2016:
• Private charter – Full board: from US $5,250 per person based on 6 passengers
• Open week – Full board – Twin/double cabin: from US $5,350 per person
• Single supplement: from + US $1,700
Included in the fare:
– Six nights accommodation
– All gourmet meals prepared by your private chef
– All wines, bar, and refreshment drinks aboard
– Transfers to and from the barge from the designated meeting point
– Daily excursions with your tour guide in private vehicle
– Use of on-board bicycles, library and sound system