– 21.3 m in length
– 4 passengers
– 3 crew (Captain, gourmet chef and tour guide host)
– 2 en-suite mahogany paneled cabins (air conditioned & centrally heated)
– Chauffeured tours by private car & evening chauffeur service
– Bicycles
– Mobile 3G/GPRS WiFi internet connection
– Satellite TV/DVD (in a hidden compartment in the wheelhouse)
You'll love the traditional boating ambiance and classic style when you charter The Randle, a varnished interior together with leather, polished brass, and vintage propulsion combine to make a voyage to remember. The Randle accommodates either couples or families of any age.
Master cabin: king-size bed, wardrobe, drawers and desk, opening skylight and ports. En-suite bathroom, toilet and hand basin set in marble. Air conditioning climate control.
Guest cabin: classic twin bunk, desk, wardrobe, opening skylight and ports. En-suite shower, toilet and hand basin set in marble. Air conditioning climate control.
Lower saloon: open plan with leather sofa seating for six. Air conditioning climate control. 1.9m headroom throughout the lower deck level.
Wheelhouse saloon: leather seating for six around circular table with all round views of the countryside, teak flooring, WiFi. Air conditioned or drop down sides for cool summer cruising.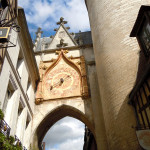 Day 1, Sunday: Paris to Auxerre
You chauffeured private car meets you at your Paris hotel, airport arrivals, or station. Usual pickup time 2pm for onward transfer to Auxerre. Welcome aboard the Randle with Captain's Champagne reception and gougère pastries.
Auxerre has been a prosperous town since roman times and is dominated by the 11-16c St Étienne cathedral built on the high ground overlooking the river. Although a bustling and modern town, it maintains its 15c charm with timber framed buildings and cobbled streets, a great place for shopping or just people watching from one of the busy street-side cafés.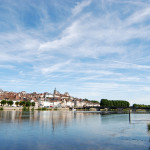 Day 2, Monday: Gurgy & Joigny
A day cruising along the river Yonne, stopping for lunch at the pretty riverside village of Gurgy takes us to the town of Joigny. English Romanticist JMW Turner sketched here in 1820 and the town still remains much the same today. Joigny was fortified in the 10th Century and still retains its eastern ramparts and gate towers, cobbled streets and ancient buildings.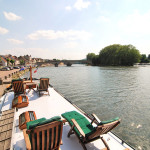 Day 3, Tuesday: Villeneuve-sur-Yonne

Today we take a morning cruise to Villeneuve-sur-Yonne. Founded in 1163 by Louis VII, Phillip II Augustus held Parliament here in 1204, and the impressive fortified city gates still remain intact.
Evening dining at the riverside La Lucarne-aux-Chouettes once owned by well-known French actress and dancer, Leslie Caron.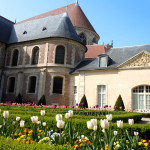 Day 4, Wednesday: Sens
Today's morning cruise takes us to Sens, with its mighty Gothic 12c cathedral St Etienne, the first of its kind in Europe. Enjoy a tour through this popular market town. Our overnight mooring is just five minutes from the town centre.
Day 5, Thursday: Pont-sur-Yonne, Misy-sur-Yonne & Provins
Today we make a cruise to riverside village of Misy-sur-Yonne, stopping on the way at Pont-sur-Yonne for lunch. It is close to where Napoleon was victorious against the Austrian army in 1814. Take an afternoon tour to the ancient fortified and UNESCO listed town of Provins, or visit the nearby Champagne vineyards of the cóte de Sézanne. Evening dining at the riverside Auberge des Cygnes, close to our mooring.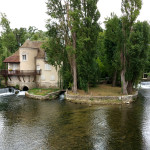 Day 6, Friday: Moret-sur-Loing & Fontainebleau
Today, we cruise onto grand river Seine, for which takes us to our destination, Moret-sur-Loing. 19c English Impressionist Sisley painted from the banks of the river and it still remains a very charming and picturesque town. Take an afternoon tour to the nearby grand and ornate UNESCO listed Château de Fontainebleau, country residence to the Kings and Queens of France for over seven centuries.
Day 7, Saturday: Paris
After a leisurely breakfast depart by private car transfer to your Paris hotel, airport, or train station.
During your barge cruise we will show you the very best Burgundy has to offer. Cruising past water meadows with grazing cattle, pretty villages and bustling market towns with magnificent cathedrals, lively cafés, bars, and restaurants, see and experience life in France.
Day 1, Sunday: Arrive at Clamecy and welcome aboard
You are met at Auxerre and transferred by private car to Clamecy for a champagne reception aboard the Randle. Take a short walk into Clamecy to visit the town, the Collegiale de St Martin and also the Logging and Barging museum. The narrow streets lined with ancient buildings present opportunities for shopping too. See our restaurant guide for you evening dining.
Day 2, Monday: Clamecy to Lucy-sur-Yonne
In the morning we leave Clamecy for a cruise through beautiful countryside which takes us to the tranquil village of Lucy-sur-Yonne.
In the afternoon there is a choice or possibilities to visit by car:
– Château de Bazoches whose illustrious visitors included Richard the Lion-heart and which was later remodelled by French military architect Maréchal Vauban.
– Château fort de Druyes, where in 1216 Pierre de Courtenay was offered the crown to the Latin empire of Constantinople.
– Les Fontaines Salées, salt water springs dating from the end of the Neolithic era and site of Gallo-Roman baths.
– Vézelay, one of Burgundy's most famous treasures with the Romanesque Basilica of St Mary Magdalene; craft shops, restaurants, art galleries, and fine views of the surrounding countryside.
Evening dinning is also possible Vézelay with many restaurants to choose from too.
Day 3, Tuesday: Lucy-sur-Yonne to Mailly-le-Chateau
Today, we cruise through the Yonne valley to moor under the cliffs of Le Saussois for lunch, the Saussois cliffs are popular with climbers some of whom may be seen practicing their skills, and Falcons too. There is a path to the top to reward you with fantastic view of the surrounding countryside. After lunch, we arrive at Mailly-le-Château; take a walking tour of the village set on a high ravine, with its fortified church overlooking the beautiful Yonne river valley, roof tops of Mailly-le-Bas and the Nivernais canal.
In the afternoon there is a choice to visits by car:

– Grottes d'Arcy-sur-Cure, amazing illuminated caves with stalagmites, lakes, and Paleolithic cave paintings dating from around 28 000 BC.
– Medieval fortified village of Noyers-sur-Serein, with timber buildings and ramparts from the middle ages, besieged and sacked by king Henry IV in the 17th century after a suspected plot against him.
Supper is at the La Castel in the town square for a taste of authentic France.
Day 4, Wednesday: Mailly-le-Chateau to Accolay
We depart Mailly-le-Chateau in the morning, and for lunch we stop at a trout farm, originally founded by Crisenon monks and revived in modern times within the walls of the old monastery, fish are caught and served onboard just 30 minutes later. After lunch we cruise on to Accolay to our mooring for the night.
In the afternoon, there is a choice of tours by car:
– Escolives Saint Camille, site of roman villa and bath house with a museum situated adjacent the old Roman north
south arterial route.
– Abbey de Regny, a beautifully preserved monastery with country gardens.
Supper at the superb Hostellerie de la Fontaine, Accolay.
Day 5, Thursday: Accolay to Vincelles

After a morning cruise we arrive at our riverside mooring at Vincelles.
The choices of afternoon tours by car include;

– A visit to the wine caves of William Chariot for a taste of great artisanal wine, Pinot Noir and Caesar, based in the beautiful wine village of Irancy.
– A visit to the Caves de Bailly, where 8 million bottles of Cremant de Bourgogne are stored during thier two year maturing process. A guided tour is possible too.
– A visit to Chablis to view the Grand Cru vineyards and then into the village to sample wines from the Petit Chablis to the Chablis Grand Cru.
Day 6, Friday: Vincelles to Auxerre
Twice visited by Jeanne d'Arc and a cathedral citadel since the 5th century, Auxerre is dominated by the Saint Etienne Cathedral and the Saint Germain Abbey. Embracing its medieval roots with interesting cobbled streets and half timbered houses, there is more to see and do than can be possibly fitted into one day, many bars, cafes, and restaurants to choose from authentic bistros to Michelin recommended.
Day 7, Saturday
After breakfast aboard The Randle at her town centre morning transfer by car for onward journey.
Randle cruise fares for 2017:
• Private charter – Full board: from €2,795 per person based on 4 passengers
• Private charter – Half board: from €2,390 per person based on 4 passengers
Included in the full board fare:
– Six nights accommodation
– All gourmet meals prepared by your private chef
– All wines, bar, and refreshment drinks aboard
– Transfers to and from the barge from any Paris or Dijon hotel, station or airport
– Daily excursions with your tour guide in private vehicle
– Use of on-board bicycles, library and sound system
Included in the half board fare:
– Six nights accommodation
– All breakfasts and lunches (ashore evening meals will be at passengers' expense)
– All wines, bar, and refreshment drinks aboard
– Transfers to and from the barge from any Paris or Dijon hotel, station or airport
– Daily excursions with your tour guide in private vehicle
– Use of on-board bicycles, library and sound system