Lounge, Dining and Kitchen Area
With a spin towards modern luxury, the 37 m² comfortable lounge area boasts designer furniture, high quality fabrics and accent pieces. Its ambient lighting fixtures set a relaxing atmosphere. Other features are: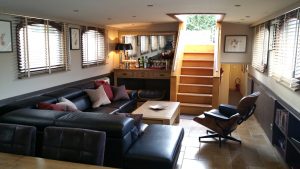 – Open Demonstration Kitchen
– Stone flooring
– Skylight
– Panoramic-view windows throughout
– Sound system with CD player and Bluetooth access
– TV with DVD/Video player
– IPad
– Wi-Fi with limited access
– Board games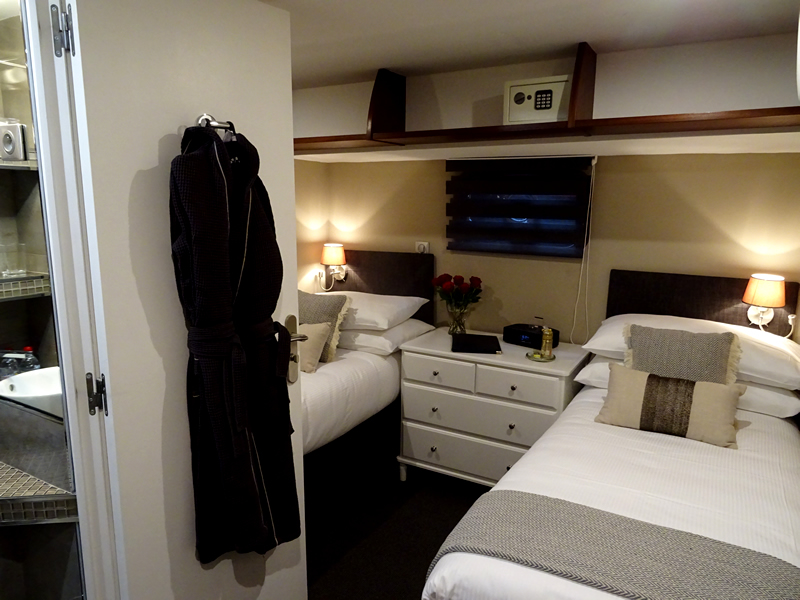 The forward cabin (1) measures 11 m² and the other two cabins (2 & 3) are similar in size, about 9.5 m². Each cabin can be configured with one Queen or two Twin Beds and has an ensuite bathroom with toilet, rain shower, sink, heated towel rack and hair dryer. Also in each cabin:
– Opening portholes for fresh air
– Bedside IPod dock with USB port
– Reading lights
– Safe
– 2 bathrobes
– L'Occitane amenities
The front deck offers great outdoor space: 37 m² surrounded with stainless steel hand railings with a wooden finish and ambient lighting for the evenings. The alfresco dining area is set aside just next to the main salon entrance under a collapsible awning, leaving lots of room for sun loungers in front of the semi sunk hot tub. You can also choose to relax on the banquette or on the outdoor couches…
English speaking crew of 4
Air conditioning / Central heating throughout
6 touring bicycles
Brand new 8 passenger Mercedes Sprinter minibus
Day 1, Sunday – Arrival at Fleurey-sur-Ouche
Chauffeured transfers from Paris or Dijon
At 2:00 pm, a member of Rendez-Vous crew will meet your party at one hotel of your party's choice in central Paris and chauffeur you to the barge, moored at Fleurey-sur-Ouche, a small village on the beautiful Canal de Bourgogne. Estimated arrival time is between 5:00 pm and 6:00 pm. Alternatively, your entire party may be met at 4:00 pm in one location in the immediate area of Dijon and Beaune and then chauffeured to the barge. Meet your crew at the traditional Champagne reception, unpack and perhaps take a walk as the sun sets – all this anticipating the first of many gourmet dinners on board.
Day 2, Monday – Fleurey-sur-Ouche to Gissey-sur-Ouche
Bicycle through the Grand Cru vineyards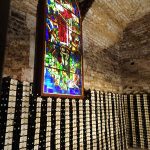 After a delicious breakfast served from the open kitchen, our morning cruise delves deeper into "La France Profonde" as Rendez-Vous cruises from Fleurey-sur-Ouche to Gissey-sur-Ouche through the river valley and incredible scenery.
After lunch on board, we'll take you to the vineyards of the Côte de Nuits for a cycling tour along the Route des Grands Crus. Visit the Clos de Vougeot, where medieval monks invented winemaking techniques and then enjoy a wine tasting. Return to Rendez-Vous for dinner on board.
Day 3, Tuesday – Gissey- sur- Ouche to La Bussière- sur- Ouche
Visit a unique food market designed by Eiffel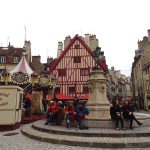 This morning, we'll depart after breakfast for a visit to vibrant Dijon with its well-preserved medieval core. After a walking tour, which will include the Cathedral, enter the gorgeous Les Halles market. Gustave Eiffel, a native son of Dijon, designed the market in the 19th century. One of France's largest and best-known markets, Les Halles comes to life every Tuesday, Thursday, Friday and Saturday with an incredible selection of meats, candies, cheeses and, of course, fruits and vegetables along with ready-to-eat pastries.
After lunch in the market, return to Rendez-Vous for a cruise to La Bussière-sur-Ouche. This is the perfect time to walk on the towpath or explore by bicycle – or just sit on deck and absorb the gorgeous countryside as it floats gently by.
Day 4, Wednesday – Moored in La Bussière-sur-Ouche
Full day out in Beaune, wine capital of the Côte d'Or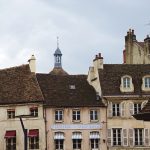 Beaune is the unofficial capital of the Côte d'Or, with millions of bottles of wine stored in cellars beneath its cobblestoned streets. This thriving town's raison d'être is wine: making it, tasting it, selling it, but most of all, drinking it. Begin the day with a wine tasting. Then continue to sightsee at the Hospices, also known as the Hotel Dieu, an immaculately preserved medieval hospital, which amazingly was in full use until the early 20th century.
Then, have lunch at a lively bistro and continue the day with a private tour at the last family owned mustard factory and shop in Beaune. Enjoy free time to shop in the pedestrian zone and stop in the square for a café. Return to Rendez-Vous and dinner on board at your peaceful mooring.
Day 5, Thursday – La Bussière-sur-Ouche to Pont-d'Ouche
A Château perched high over the canal
Cruise from La Bussière to Pont-d'Ouche in the morning. After lunch, we'll visit the village of Châteauneuf-en-Auxois with its fairy tale castle perched high over the canal. Tour the castle as well as the village, with its delightful small crafts shops. Return for dinner on board.
Day 6, Friday – Pont-d'Ouche to Vandenesse-en-Auxois
Cheese tasting deep in the countryside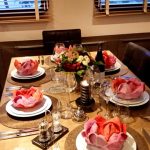 This morning, it's your last, wonderful cruise to Vandenesse-en-Auxois. After lunch, it's time for a goat cheese tasting at a local farm. This tasting will be accompanied by a local wine – after all, you are in France!
Then it's back to Rendez-Vous for a last, festive dinner and reliving of your week on board.
Day 7, Saturday – Chauffeured Transfer Back to Paris
A sad farewell
Breakfast is your last on-board meal. Depart at 9:00 am for your return transfer back to the one location of your choice in central Paris, or alternatively, your entire group returning to Charles de Gaulle Airport. Estimated arrival time at both locations is 1:00 pm.
We hope you enjoyed your cruise on Rendez-Vous!
"Joe is an excellent and talented cook. Terrific menus and matching wines. Add to that his charming personality and willingness to describe dishes and preparation tricks and you have a super combination."
"Cabins were very comfortable, with plenty of space, and all bathroom amenities/supplies available."
"The beds were wonderful!! The linens were really beautiful and felt great (I am a little picky about that!). The designers did a great job with the gray tiled baths too. While cruising, being able to view things off the deck in both directions was wonderful. The dining area and comfortable furniture on deck made it especially inviting."
Rendez-Vous cruise fares for 2017:
• Private charter – Full board: from US $5,000 per person based on 6 passengers


Included in the fare:
– Six nights accommodation
– All gourmet meals prepared by your private chef
– All wines, bar, and refreshment drinks aboard
– Transfers to and from the barge from the designated meeting point
– Daily excursions with your tour guide in private vehicle
– Use of on-board spa hot tub, bicycles, board games, sound system, iPad and Wi-Fi