How you see the world matters… and on the river cruises that Sonia has hand-picked below, you can expect to see the sights a bit differently.
Explore Europe's great waterways from the Rhine to the Rhône and the Seine in France. These luxurious riverboats are spacious and comfortable, welcoming you to an onboard experience with a difference: all-inclusive river cruises featuring personalised cruising; an intimate, club-like atmosphere onboard, and the uncommon access to exclusive cultural experiences on the included excursions ashore.
Have a read through this selection of river cruises that go beyond the ordinary… Please note that we can book most cruise lines for you so contact us today for more information.
Scenic – 2017 France River Cruises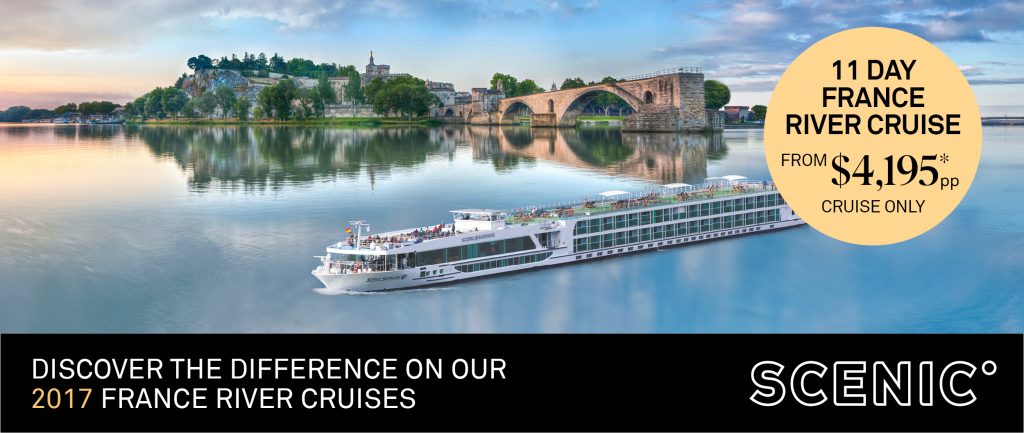 In France, beauty is everywhere. From the culture of the Seine to the cuisine of the Rhône or the vineyards of Bordeaux, you simply have to experience this country at least once in your life.
Beautiful Bordeaux – 11 days – From $4,195 pp


Cruise the three waterways of Bordeaux and uncover the region's extraordinary landscapes, delicious French fare and traditional wine making that has been refined to an art.
Gems of the Seine – 11 days – From $4,195 pp
A round-trip from Paris, this splendid waterway winds its way along some of the most celebrated sites in northern France, showcasing fine historic settings and beautiful landscapes.
South France – 11 days – From $4,995 pp
From Chalon-sur-Saône to Tarascon, the South of France is a place of rare enchantment. Delve into the many local histories along the way and appreciate the world's most refined wine culture.
Bordeaux, Vineyards & Châteaux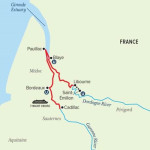 Tour Length: 8 Days / 7 Nights – Group Size: > 130
Begins and ends in Bordeaux, France

Discover the unparalleled riches of Aquitaine and its charming capital city, Bordeaux. Though settled by the Romans and formerly ruled by the English, Aquitaine is profoundly French. From its noble châteaux to its breathtaking estuary, Bordeaux (as the region is also known) is an oenophile's paradise and every traveller's dream. You'll sail three stunning rivers—the Garonne, the Dordogne, and the Gironde—on one amazing journey, all aboard your elegant floating hotel.
2017 departures

: departing every Sunday between 12-Mar and 12-Nov – From $4,199 pp
French Waterways – Paris, Lyon & Avignon
Tour Length: 10 Days / 9 Nights – Group Size: > 40
Begins in Paris, France – Ends in Lyon, France

Cruised by Sonia in 2013! The joie de vivre of Paris… the vibrant colors of Provence… Roman ruins and medieval abbeys… wonderful Côtes du Rhône wines to sample in private tastings at the source… a tasting experience at Les Halles de Lyon… a demonstration at an award-winning cooking school and much more. Preceded by a two-night stay in Paris, this most extraordinary of France cruises is a feast for the senses!
2017 departures

: 19-Apr / 14-May / 21-May / 22-Jun / 31-Aug / 25-Sep / 02-Oct – From $6,590 pp
Rendez-vous on the Seine – Paris to Paris
Tour Length: 10 Days / 9 Nights – Group Size: > 40
Begins and ends in Paris, France
Follow the Seine to coastal Normandy on a 10-day river cruise that's sure to impress. Discover the art of Paris for two nights before a 7-night cruise to Rouen, Honfleur and Giverny, immortalized by Impressionist artists. Visit D-Day beaches on their 70th Anniversary, and sample Calvados where it is made and dine at a private château.
2017 departures

: 01-Apr / 26-Apr / 03-May / 28-May / 04-Jun / 06-Aug / 13-Aug / 07-Sep / 14-Sep / 09-Oct / 16-Oct – From $6,740 pp
Cruising the Seine plus Versailles, Paris and London
Tour Length: 14 Days / 13 Nights – Group Size: > 40
Paris to London as you've never experienced them before, including a two-night stay in London at one of the world's top hotels plus two nights in Versailles at a luxury hotel, on a river cruise that winds through fishing ports and medieval towns, through picturesque haunts of Impressionist painters, dining at a magnificent château…
2017 departures

:

Northbound: 08-Apr / 10-May / 11-Jun / 19-Jul / 20-Aug / 21-Sep – From $8,800 pp
Southbound: 17-Apr / 19-May / 20-Jun / 28-Jul / 29-Aug / 30-Sep – From $9,050 pp