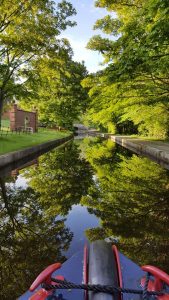 From a Cheshire (Class 1 Narrowboats) or North Wales (Class 2 Narrowboats) base, cruise the exquisite Llangollen canal which is famous for its legendary Pontcysyllte and Chirk aqueducts. Winding through the Great British countryside as it crosses the Welsh border, the Llangollen Canal is probably best known for its unrivalled beauty with views of castles, tunnels, locks, villages, pubs and, of course, the two magnificent World Heritage aqueducts. Towns along the way include medieval Whitchurch with its half-timbered buildings, the interesting market town of Ellesmere set in its own "Lake District", the fortified border town of Chirk and Llangollen itself, sat astride the River Dee, an ancient gateway to Wales beneath the ruins of Castel Dinas Bran.
If you head north on the Shropshire Union Canal, you can visit Chester and Ellesmere Port. Chester is renowned for its heritage and attractions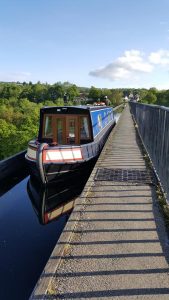 such as Chester Zoo and the Cathedral. If you head south on the Shropshire Union you can cruise down to Nantwich and Market Drayton.
The Four Counties Ring and the Cheshire Ring are great for experienced boaters who like a busy holiday, as some of the locks and bridges can be difficult to operate. Nevertheless, these are fabulous cruises through countryside and lively cities of Cheshire, Shropshire, Staffordshire and West Midlands.
Suggested routes:
Llangollen Canal
Caldon Canal
Macclesfield canal
Montgomery Canal
Shropshire Union Canal
Cheshire Ring
Four Counties Ring
Located about half-an-hour north of Birmingham, this base is ideal to explore Central England (Class 1 Narrowboats). For a very relaxing holiday, choose the Coventry Canal and head up onto the Ashby canal, for a lock free cruise. The Trent and Mersey Canal, one of the first to be built in the UK, offers industrial and rural views as well as a dark spooky experience at the Harecastle tunnel. From there, you can also take a ride on the recently restored Anderton Boat Lift, which is great fun for young and old! The Leicester Ring is highly recommended for experienced boaters and takes a very active action packed week to complete the circular route. Alternatively, if you like a mixture of rural and city landscapes, then the Black Country Ring is a great option. You can head into the centre of Birmingham, England's second city where old meets new.

Suggested routes:
Caldon Canal
Coventry Canal
Ashby Canal
Trent & Mersey Canal
Black Country Ring
Leicester Ring
Warwickshire Ring
Staffordshire & Worcestershire Canal
Birmingham & Fazeley Canal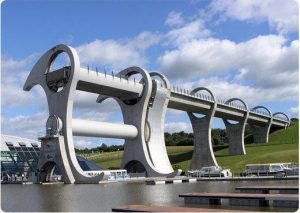 This base is located at the foot of the famous Falkirk Wheel in Scotland, the world's first rotating boat lift connecting the Forth and Clyde Canal with the Union Canal. Cruise west on the Forth and Clyde Canal towards the centre of Glasgow, lively and cosmopolitan city, or head east onto the Union Canal, all the way to the heart of historical Edinburgh (Class 1 Narrowboats).
Suggested routes:
Forth & Clyde Canal
Union Canal