Rent a luxury widebeam boat to discover Southern England
Sit back and relax on a luxury widebeam canal boat holiday. Explore the Kennet & Avon Canal from this Southern England base, located halfway between Bath and Reading (only 2 hours drive from London). Stretching over 87 miles, this canal is renowned as one of the most beautiful locations in the UK for a canal boat holiday, passing through some spectacular landscapes including West Berkshire and the rolling Cotswolds. It was built in the 19th century to link London with the Bristol Channel. The Kennet & Avon Canal is a very special waterway, which has been awarded a protected cruise-way status securing the future of this historic waterway.
Pick your route
Kennet & Avon Canal – West Route (towards Bath)
Kennet & Avon Canal – East Route (towards Reading)

From the moment you step on-board, you'll be surrounded by an abundance of wonderful wildlife and stunning scenery. There's lots to see and do along this waterway with plenty of canalside pubs and places to visit: Crofton Beam Engines, Wilton Windmill, Crop Circles, Claverton Pumping Station, etc. Along the route towards Bath, the Caen Hill Locks is a marvel of canal engineering comprising of 26 locks in total, with the main flight consisting of 16 and taking between 2 to 5 hours to navigate. Other highlights of the navigation on the west route include the Avoncliff and Dundas Aqueducts.
Find the right widebeam boat for your party
All of the widebeam boats in this fleet are 10ft wide. Whether you're holidaying as a couple, with family or a group of friends, you'll love the sense of extra space on-board allowing for king-size beds, Jacuzzi baths, log burners as well as top of the range facilities (central heating, fine linen, quality mattresses, fluffy towels, etc.).
Class 3W1 (2 permanent + 2 optional berths)
57′ x 10′ widebeam
Designed for couples: ideal to celebrate special occasions (honeymoon holidays, romantic anniversary breaks, etc.)
Master bedroom with king-size bed, vanity desk, wardrobe and plenty of storage
Optional double sofa bed in the lounge (which can be closed off for privacy)
Reversed layout: kitchen and lounge located at the stern of the boat
Front deck of the boat used as a balcony-like area
Extra features:
Front deck with seating
Stern alfresco dining
Granite worktops
Concealed pop-up TV
Espresso machine
Dishwasher
Class 3W2 (4 permanent + 2 optional berths)
65′ x 10′ widebeam
Master bedroom with king-size bed, utility area (including clothes dryer and sink) and ensuite bathroom (including toilet and walk-in shower)
Middle cabin with double or twin bed with plenty of storage and attached bathroom that has two doors (one from the bedroom and one from the corridor)
King-size sofa bed in the lounge for extra guests
Two bathrooms
Ideal for two couples or one couple and two individuals
Extra features:
Semi traditional stern with enclosed area, storage and good deck space
Dining area and seating
Class 3W3 (4 permanent + 2 optional berths)
65′ x 10′ widebeam
Master bedroom with king-size bed and ensuite bathroom (including toilet and walk-in shower)
Middle cabin with king or twin bed and attached bathroom that has two doors (one from the bedroom and one from the corridor) including a Jacuzzi bath with shower-over and toilet)
Double sofa bed in the lounge for extra guests
Two bathrooms
Ideal for two couples or one couple and two individuals
Extra features:
Semi traditional stern with enclosed area with storage space
Small utility area at the stern of the boat with clothes dryer, sink and storage
Dining area and seating
Class 3W4 (4 permanent + 2 optional berths)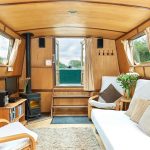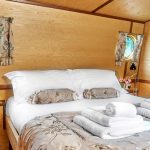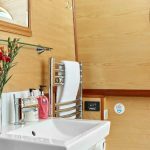 65′ x 10′ widebeam
Master bedroom with king-size bed, utility area (including clothes dryer, sink and storage) and ensuite bathroom (including toilet and walk-in shower)
Middle cabin with double or twin bed and attached bathroom that has two doors (one from the bedroom and one from the corridor) including a Jacuzzi bath with shower-over and toilet
King-size sofa bed in the lounge for extra guests
Two bathrooms
Ideal for two couples or one couple and two individuals
Extra features:
Semi traditional stern with enclosed area
Dining area and seating
Class 3W5 (6 permanent + 2 optional berths)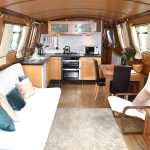 55′ x 10′ widebeam
Master bedroom with king-size bed, generous storage space and vanity desk
Middle cabin with two sets of single beds, sleeping up to four individuals
One bathroom including a Jacuzzi bath with shower-over and toilet
Double sofa bed in the lounge for extra guests
Ideal for families and small groups
Extra features:
Traditional stern suitable for the skipper and an accompanying crew member
Easy to manoeuvre, perfect for a first canal boat holiday
Dining area and seating
Class 3W6 (7 permanent + 2 optional berths)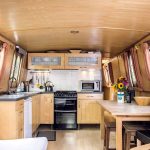 65′ x 10′ widebeam
Master bedroom with king-size bed and ensuite bathroom (including toilet and walk-in shower)
Middle cabin with three fixed single beds and forth bed that can either be arranged as a single bed, double bed or sofa
One bathroom including a Jacuzzi bath with shower-over and toilet
King-size sofa bed in the lounge for extra guests
Ideal for families and large groups
Extra features:
Stern with utility area including a clothes dryer, sink, ironing board and tea and coffee making facilities
Dining area and seating
King-size beds
Luxurious bedding & towels
Jacuzzi bath with shower
Central heating
Log burner
Crockery & utensils
Microwave
Hobs/Oven/Grill
Fridge/Freezer
TV/CD/DVD
Flushing toilets
240v sockets
+ Available Cruise Duration: between 3 to 14 nights
+ Season: from March to November