Cruise the full length of the Canal de Briare, the first connecting canal built in France. Construction began in 1604 during the reign of Henry IV and was completed in 1634. The Canal was built to enable produce from the Burgundy and Loire regions to be taken to Paris. The Loire region is often referred to as the "Garden of France", a typically French landscape with peaceful, rolling countryside. Your cruise begins at Montbouy, the northern end of the Canal de Briare close to the regional capital of Montargis.
Day 1 – Sunday: Paris to Montbouy
We collect you from your Paris hotel after lunch for transfer by private mini-coach to Meanderer moored in the quiet and picturesque village of Montbouy (just a few miles from the regional capital of Montargis). After a champagne reception, we take an early evening cruise to the village of Montcresson and back. Relax on deck and watch the town and people pass by. Your first dinner on board.
Day 2 – Monday: Montbouy to Rogny-Les-Sept-Écluses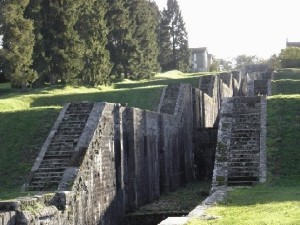 During the morning, we cruise to Rogny-Les-Sept-Écluses, a historical home of an ancient seven-stage staircase lock, considered to this day a marvel of engineering. After lunch, the excursion program begins with a visit to the magnificent Château de Sully-sur-Loire or to the busy town and spectacular palace of Fontainebleau, home to generations of French royalty or to the Château Vaux le Vicomte with its extensive and pristinely preserved formal gardens.
Day 3 – Tuesday: Rogny-Les-Sept-Écluses to La Gazonne
This morning we visit the regional capital town of Montargis, the week's best opportunity to explore a busy market town. People-watch or shop for souvenirs and exquisitely packaged confectionary from the famous Mazet Praline shop. On return to the barge, our afternoon cruise through six locks, which replaced the historical seven staircase lock of Rogny, brings us to the overnight remote mooring at La Gazonne, in the middle of a magnificent nature preserve.
Day 4 – Wednesday: La Gazonne to Briare
We start with a morning visit to the splendid 16th century Château of St. Fargeau, offering a surprising and unique discovery of the rich history of this castle. An alternative excursion is available to the Medieval Village of Guedelon, an extraordinary and unique experience to observe this 25 year project recreating a defensive medieval castle, which is being built with materials, tools and techniques of this ancient period. Our afternoon cruise takes us through some of the most beautiful and rural parts of the canal to the spectacular town of Briare on the bank of the Loire River and the entrance to the extraordinary Briare Aqueduct (Pont Canal).
Day 5 – Thursday: Briare to Beaulieu-sur-Loire
We shall cruise in the morning over the Pont Canal. The daily excursion program continues with a visit the town of Gien. Set on the banks of the River Loire, the pretty town holds many attractions including the famous Faience Boutique, the Hunting Museum and the Château de Gien. We then take a short drive to the beautiful private Château de La Bussière, with its incredible 18th Century gardens. An optional visit to the UNESCO World Heritage site Village of Vézelay is highly recommended as is a private visit (by appointment) to Château de Buranlure.
Day 6 – Friday: Beaulieu to Léré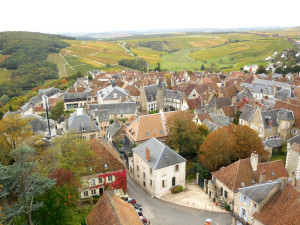 This morning we continue along the Canal Latéral de la Loire on the way to the charming town of Léré, our final mooring port. The scenery of flat fields and pastures slowly changes to the hills of the vineyards. Afternoon excursion takes us to the world famous wine region of Sancerre with the opportunity to sample the local wines and explore the charming hill-top village. A visit to the extraordinary town of La Charité-sur-Loire, surrounded on all sides by the Loire River is a special treat. For early risers the best market visit of the region at Cosne-sur-Loire with our chef is an option. The real wine aficionados have the option to visit 2 wineries that afternoon; Sancerre as well as Pouilly-Fumé.
Day 7 – Saturday: Léré to Paris
This morning, after breakfast, we depart for the return transfer to Paris.
This Northern route takes us from Montargis on the Canal du Loing to Samois-sur-Seine, most recently famous for having been the home of revered guitarist Django Rheinhardt. An equally beautiful scenic route, you will visit towns such as Moret-sur-Loing, Nemours, Chateau Landon, and Grez-sur-Loing. Since this route takes us on the rivers Seine and Loing you will experience the busy port of St. Mammès with huge laden commercial barges passing through. The moorings are peaceful and rural with plenty of opportunities to walk, bike or simply relax and allow the crew to pamper you. Come and join us, savor the food and wine and relax while touring a truly enchanting countryside. Available on request only.
Day 1 – Sunday: Samois-sur-Seine to St. Mammès
We collect you from your Paris hotel after lunch for transfer by private mini-coach to Meanderer moored at the riverside village of Samois-sur-Seine, home of Django Rheinhardt. A champagne reception and early evening cruise to a busy waterside town of St. Mammès await you.
Day 2 – Monday: St. Mammès to Épisy
During the morning we cruise to Épisy, sailing past Moret-sur-Loing. After lunch, the excursion program begins with a visit to the busy town and spectacular palace of Fontainebleau, home to generations of French royalty, or Vaux-le-Vicomte, site of the movie "Man in the Iron Mask".
Day 3 – Tuesday: Episy to Nemours
Today's excursion takes us to Moret-sur-Loing and a guided walking tour of this spectacular village, home of Alfred Sisley and inspiration to many famous impressionist painters. Our afternoon cruise takes us to the charming town of Nemours, with its impressive church and beautiful 12th century castle.
Day 4 – Wednesday: Nemours to Néronville
This morning's cruise takes us to a picturesque mooring at the village of Néronville. From there, after lunch, we visit the hilltop town of Chateau Landon. Many options are available, including horse-drawn carriage visit of the town (additional fee) or a very interesting guided walking tour. The cruise itself takes us through an industrial section of the canal followed by a contrasting quiet, rural and picturesque section before arriving at Néronville.
Day 5 – Thursday: Néronville to Nargis
The daily excursion program continues with a visit to the village of Grez sur Loing. An optional excursion to Barbizon is available. That afternoon we shall cruise to another beautiful, secluded mooring in the village of Nargis.
Day 6 – Friday: Nargis to Montargis
In the morning, our cruise will continue to our final overnight mooring at the region capital, Montargis. For those interested in wine tasting, we offer a trip to the Sancerre wine region including tasting and winery visit. An optional trip to visit the beautiful Château de la Bussière with its 18th century garden or Château de St. Fargeau with its unique history and present role in the life of local community. We can, time allowing, include a stopover and a walk over the Briare's Pont Canal – the famous 700 yards aqueduct over the Loire River built in 1896 by Gustave Eiffel. For the early risers a visit with the chef to the farmer's market in Ferrières-en-Gatinais is an option.
Day 7 – Saturday: Montargis
This morning, after breakfast, we depart for the return transfer to Paris.
Guided biking tours of all levels (from laid back rides following the canal bike-paths to 80 miles plus daily trips) are offered with the current itineraries. George, the owner, is guiding all biking tours. The rides are designed to supplement current activities, allow for riding bikes (rather than the bus) to certain excursions by all or some of the guests, and replace some excursions or even all of them with biking tours. 6 high quality bikes are available for the guests. Avid cyclists may bring their own bikes. High-end road bikes are also available for rentals. The biking options are available to all or individual guests on any given day and custom designed in accordance with biking skills and level of comfort. Maps, GPS, water bottles, helmets and essential spare parts are available. Cyclists can also bring their own shoes and clip-on pedals.

Golf is an integral part of our programs and is offered to our guests as a full Golf Charter (5 outings on different to level courses) or as a flexible option program, allowing limited golf for all or some of the guests for any number of outings. Guests are welcome to bring their own clubs (we have plenty of storage) or we shall arrange for club rentals. Green fees are included.
Multiple Excursions Options
2 vehicles are available to give the passengers the option to split into 2 different excursions. This concept allows wine lovers to take in another winery while golfers might take in a round at the same time, families might split to visit market and historic villages while kids enjoy Guedelon medieval site or a swim in the lake, avid cyclists could take a half a day ride while others visit a historic château. While others may choose shorter excursions, day trips to the Châteaux de la Loire (Chambord, Chenonceau, Blois, etc.) with lunch included are another option.
"A great boat, a great crew, great food, great wines, a bloody good time!"
Ed & Nancy W., Australia
"Absolutely delightful, refreshing, relaxing and restful. Everyone was simply spectacular, attentive without intruding, helpful and available. One of the best weeks of our lives. Cannot wait to return."
Thomas and Lisa Y., USA
"Wonderful week. Sue, George, Ollie, Jen and Deb… this week will live on in our memory for years!"
Jenny and Peter G., Australia
Meanderer cruise fares for 2017:
• Private charter – Full board: from €4,945 per person based on 6 passengers
• Open week – Full board – Twin/queen cabin: from €5,150 per person
• Single supplement: from + €5,150 per person
Included in the fare:
– Six nights accommodation
– Private transfers between the nominated Paris pick up/drop off point and the cruise start/finish points
– Breakfast, lunch and four course dinner each day whilst on board
– Unlimited "Appellation Controlée" wine with meals, bar drinks and liqueurs
– All excursion costs and entry fees to attractions as advertised in the sample itinerary
– Private mini-coach with driver/guide for excursions
– Use of on-board bicycles (6), Jacuzzi spa-pool and Satellite flat screen TV's + Video, DVD and CD players in cabins