Barge length: 38,88m
Barge width: 5,05m
Crew: 6 (Captain, Tour guide, Chef, 2 Hostesses, Deckhand)
Passengers capacity: 8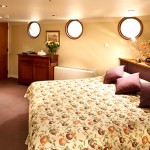 4 king-size cabins
A Prosperite cruise offers some of the largest rooms and highest level of amenities you will find on any of the canal boats in France. The four luxurious staterooms provide 270 square-feet of space, stereo systems, an electronically adjustable over-sized twin or king bed and private bath with tub, separate shower, and heated towel racks. Individually controlled central heating and air-conditioning.

Salon & Dining Room
The salon decor encompasses Italian leather couches with French accent pieces and other beautiful touches plus a separate dining room. The salon is very bright and spacious with beautiful panoramic windows, which give you a good view of the outside countryside while cruising. The dining room has a table seating 8, decorated with elegant and contemporary style. It is the perfect place to enjoy the gourmet dinners prepared for guests by your private chef. The separate dining room also boasts a fully equipped demonstration kitchen, where the chef gives planned and impromptu demonstrations in French and Continental cuisine during the cruise.
Deck
A spacious sun deck (35 sq. meters) with hot tub is a glorious way to experience the passing scenery on the beautiful Burgundy waterways. With deck chairs and tables, a sun canopy for shade, and an open bar are available around the clock, guests can spend time relaxing here. Guests are welcome to join the Captain to observe cruising techniques and procedures going through the locks.
Onshore
Enjoy a casual bike ride or stroll along the towpath or into the countryside, bikes are always on-board and ready to go, Our 9 seated air conditioned Mercedes is available for transfers and during shore excursions.
Timeless cruising on tree-lined canals… Wine-tasting in the Côte d'Or… Personalities of Burgundy… Hospice de Beaune… An idyllically beautiful route!
Day 1 – Sunday: Paris to Dijon
Private chauffeured transfer – biensûr!
A member of Prosperite crew will meet your party at one pickup location in central Paris at 2:00 pm or, alternatively, one pickup location in Dijon, Beaune or the immediate Cote d'Or area at 4:00 pm, and then chauffeur you via private Mercedes van to the barge, at anchor in Dijon. You'll be welcomed by the traditional champagne reception, and enjoy the first of many gourmet dinners on board. Tonight we stay in Dijon.
Day 2 – Monday: Dijon to Fleury-sur-Ouche
Where medieval monks made wine

Prosperite departs the port of Dijon – heading onto the Burgundy Canal for a tranquil morning cruise. Prosperite will go through the first of many locks. After lunch, devote the afternoon to an introduction to the Cote d'Or wine region lying south of the canal. First, we'll drive among the vineyards and villages of the "Route des Grand Crus" on the way to Clos de Vougeot, a 12th century chateau where Cistercian monks learned the art of winemaking. Explore the ancient wine presses and soak in the ambiance of this elegant chateau surrounded by vineyards. Then it is back to Prosperite, now moored in Fleury-sur-Ouche.
Day 3 – Tuesday: Fleury-sur-Ouche to Gissey-sur-Ouche
Join the locals at the Dijon market

This morning we'll drive back to Dijon, pictured at right, for a morning devoted to this lovely town. First, we'll walk the historic district, with its colorful tiled rooftop buildings, and then stop at the covered food market, which was designed by Eiffel of Tower fame! A vast selection of produce, fish, cheeses, breads, baked goods and prepared delicacies brings this bustling market to life. There will be time to browse in tiny shops lining the cobblestoned streets, too. Then its back to Prosperite for lunch and an afternoon cruise to Gissey-sur-Ouche. On the way, what about getting out our bicycles for a meander on the towpath and into a village or two, see at right. Dinner on board ends this wonderful day.
Day 4 – Wednesday: Gissey-sur-Ouche to La Bussiere-sur-Ouche
Dinner at a Michelin-starred restaurant

A short morning cruise to La Bussière-sur-Ouche begins this eventful day. After lunch, we visit the adorable village of Chateauneuf-en-Auxois perched high on a hill overlooking the canal. Here is an enchanting old château – very simple but with history and ghosts around every corner. Then walk the cobblestoned streets of the village; perhaps one of the craft ships is open. Then it's back to Prosperite where there will be time to prepare for dinner at Abbaye de la Bussière, a former Cistercian Abbey now immaculately restored into a hotel and restaurant.
Day 5 – Thursday: La Bussiere-sur-Ouche to Pont d'Ouche

Medieval hospice in Beaune – plus shopping!

This morning, cruise deeper into the Ouche Valley to Pont D'Ouche. This is a great time to walk, bicycle or sit on deck and watch scenes of great beauty float by. After lunch, it's back into the Mercedes minivan for a cruise high point: an excursion to Beaune. This enchanting town is the wine capital of Cote d' Or; underneath its streets lie hundreds of miles of wine cellars. Visit the 14th-century hospital Hotel Dieu: it is gorgeously preserved and provides a unique glimpse of life in the Middle Ages. There may be time for an impromptu winetasting, browse the shops, or enjoy a cafe in the square. Then it's back to Prosperite to re-live the day at dinner on-board.
Day 6 – Friday: Pont d'Ouche to Vandenesse-en-Auxois
You've tasted the cheese… now taste the wine for an ultimate French experience!
Our final morning cruise takes Prosperite to Vandenesse-en-Auxois. Take a last, long morning to relax! Then, it's back to the Côte d' Or vineyards, passing through colorful villages on the way to a cellar tour/wine-tasting at Domaine Prieur-Brunet in Santenay. Return to your barge – now your home away from home – for cocktails and the festive Captain's Dinner. End your Prosperite cruise in style!
Day 7 – Saturday: Return to Paris
A sad farewell
You'll depart between 8:00AM – 9:00 AM and chauffeured as a group either to one location in central Paris or one location at Charles de Gaulle airport. Driving time to Paris is estimated at three hours; driving time to Charles de Gaulle at four hours. We hope to see you soon on Prosperite!
Note: The route is run in reverse on alternate weeks.
"An 11 on a 10 scale – the best service I have experienced in years of travel!"
Joseph and Barbara Ross
"It was an absolutely fabulous trip from Day 1! T he entire crew couldn't have been more enthusiastic, helpful or just plain fun! A great week."
Bob and Jane Long
"The crew was very attentive and warm. The accommodations were excellent. The food was very, very good! The planned tours reflected the region and provided a real "picture" of the area. We relaxed, we laughed, we enjoyed each other and felt quite at home. Highly recommend this barge, the region and the vacation. I would rate this as one of our best vacations!"
Cym Lowell and Dale Justice
"From start to finish, a top drawer experience. We were warmly welcomed, pampered as much as we desired and always made to feel like Prosperite was our home, full of familiar comforts. The staff was instantly responsive to our needs and even to our barely expressed wishes. This was the best, most relaxing vacation we've ever had!"
Robert and Jean Krapf
Prosperite cruise fares for 2017:
• Private charter – Full board: from US $6,750 per person based on 8 passengers
Included in the fare:
– Six nights accommodation
– All gourmet meals prepared by your private chef
– All wines, bar, and refreshment drinks aboard
– Transfers to and from the barge from the designated meeting point
– Daily excursions with your tour guide in private vehicle
– Use of on-board bicycles, library and sound system